I am slowly but gradually getting back to some more travelling for work. Not quite as frequently as back before the big C. But let's be honest, I don't think I need a repeat of 2019 any time soon. Which in hindsight was probably just a tad too much. But this isn't really about looking back. Instead I was going to tell you about my most recent trip to Zurich. And how I managed to go exploring and see Zurich in two hours, despite a busy work schedule.
I have been to Zurich a few times before, always for work. I managed a few short walks through Zurich in the evenings. Mainly on the hunt for food or walking from the train station to my hotel. But this was the first time I actually had enough time to do a proper Zurich walking tour. To see all (or most) that Zurich has to offer in just two hours (maybe three).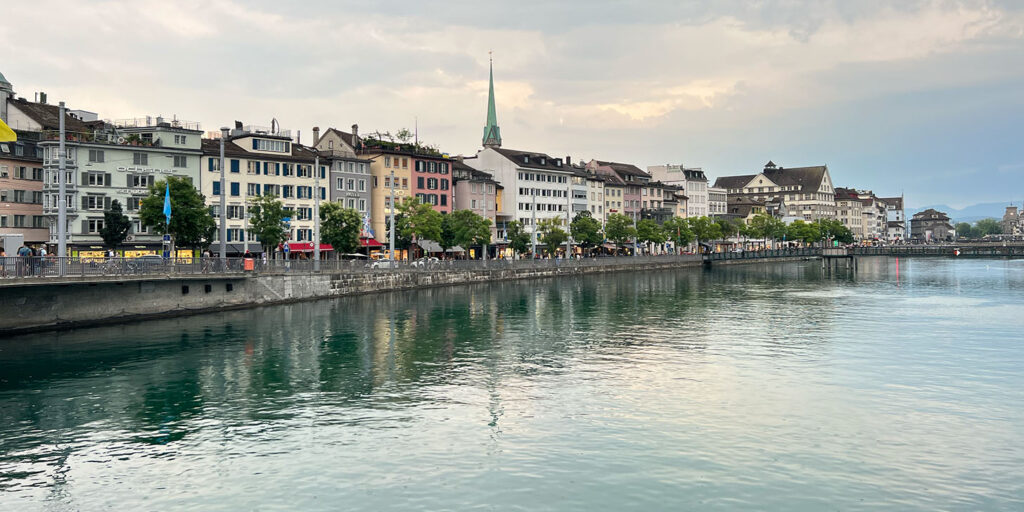 To make the most of my evening in Zurich, I had actually prepared and put together a Zurich walking tour. So, I knew that in theory I should be able to walk the main sights of Zurich in two hours. It would have probably helped, had I actually taken said Zurich itinerary with me. Instead, I had a random list of sights in my notebook. And my mapped out Zurich walking tour safely stored on my laptop… in my hotel room. So, walking Zurich might have taken me a little longer than the estimated two hours. But then again, it didn't matter. Just believe me when I say you SHOULD be able to do it in the time, if two hours in Zurich is all you have. If you find yourself in Zurich for longer, just take your time on the tour. Or add a few more sights along the way.
Where to start your Zurich in two hours walking tour
As my hotel for the night was in the Niederdorf area, that is where I started my Zurich walking tour. But it is a round course, so start wherever is convenient. If you arrive from the airport, starting your Zurich in two hours walking tour at the main train station would probably be best. Or you could start down by the lake. I leave it to you.
Effectively, we will walk up one side of the Limmat and down the other, as Zurich old town is located either side of the Limmat.
Zurich is great for walking. The main town is quite compact, so it is easy and quick to go on foot. But I would advise on comfortable shoes. Firstly, Zurich has loads of cobbled streets. Which look very picturesque but will kill your heels in no time. Secondly, there are a couple of small hills on our tour.
Zurich in two hours: Niederdorf, Polybahn + Hauptbahnhof
For once, I've managed to book myself a hotel slap bang in the centre of Zurich. Perfect as a starting point for my Zurich in two hours walking tour.
Niederdorf (which means 'lower village' in English) is a district within the old town of Zurich, on the east bank of the river Limmat. It offers many nice shops and boutiques, as well as restaurants and a bustling nightlife scene.
Starting my Zurich walking tour at Niederdorf, I walked along the small, cobbled streets, until I arrived at the Polybahn. A funicular railway that gets you up to the Polyterrasse and the university.
The funicular takes only a few minutes to go up the hill and you will need to buy a ticket (ticket machines are right in front of the entrance and a single ticket costs 1.20CHF / approx. 1 GBP).
Once up on the Polyterrasse, I was rewarded with a beautiful view over Zurich.
But if I wanted to see Zurich in two hours, I had to keep going. So, after a few minutes enjoying the view (and taking photos), I walked back down and continued my Zurich walking tour. I decided not to go back down with the funicular, as that would have meant a second ticket. And at that stage, I was still happy to just walk (if you'd ask me later in the day and the answer might be different).
Back down, I crossed the river Limmat, heading towards the main train station. Unfortunately, the station is currently a big building site, so I stayed well clear. But without the building works, I would have entered the train station to see the Guardian Angel, a Niki de Saint Phalle sculpture hanging from the ceiling (I had been to the station on previous visits, so I have seen it and absolutely love it).
Zurich in two hours: Urania, Lindenhof + Schipfe
Once on the west bank of the Limmat, I walked down Bahnhofsquai, enjoying the views across the water. Since I didn't bring my prepared Zurich walking tour route, I unfortunately forgot to check out the Giacometti Hall (or Bluemli Hall, as the locals call it). Apparently, a beautifully painted entrance hall, so I guess I will have to visit this next time I am in Zurich. But since you are literally walking past it, don't forget to pop in and have a look (and tell me what I've missed). Oh, and as it is inside a police station, better bring some ID with you, so that they let you enter.
What I didn't forget on my Zurich in two hours walking tour was the Urania Sternwarte (the public observatory). If you spend an evening in Zurich, you might want to check out their observatory tour. Unfortunately, it wasn't open the day I visited, but they do regular evening tours for 20CHF (approx. 17GBP), starting at 9pm. As I was only able to look at the exterior, I didn't stay for long.
Instead, I walked uphill to get to Lindenhof. And I was rewarded with yet another amazing view over Zurich and the river Limmat, this time from the other side.
By then, unfortunately the weather had other plans than allowing me to enjoy a Zurich walking tour. It had been boiling hot all day, but now a thunderstorm was coming in and I knew my time was limited before all hell would break lose. But until then, I would make the most of it and enjoy the most amazing pre-storm sky.
From Lindenhof, my Zurich walking tour took me down to the Schipfe, the oldest area of Zurich old town. Wedged between the Limmat and the Lindenhof hill, Schipfe is a relatively small area (and no longer its own district, it officially belongs to Lindenhof as a Zurich district). But it is a very picturesque area with small houses and loads of art galleries and crafty stores.
Unfortunately, this was when the storm hit, and the rain started hammering down. My visit to Schipfe was cut short as I ducked for cover. But then again, if you are trying to see all of Zurich in two hours, you don't really have much time to dwell anywhere anyway.
Self-guided Zurich walking tour: Augustinergasse + Bahnhofsstrasse
Once the rain subsided (more or less), I was able to continue my tour. walking along the small, cobbled streets towards the Augustinergasse. I love how some of Switzerland's old town streets are lined with flags. Something I already admired when staying in Switzerland's capital Bern. And the Augustinergasse in Zurich is another fine example. Thanks to the recent thunderstorm, there weren't many people on the streets, so I had the picturesque view all to myself.
From here, you could continue to the Bahnhofsstrasse, Zurich's prime shopping street. This is where you will find all the designer shops. If you have more than two hours in Zurich, Bahnhofsstrasse would be perfect for a little shopping spree (or at the very least some window shopping, if the budget doesn't allow for actual shopping). Since I was getting hungry and it was too late for shopping anyway, I skipped the Bahnhofsstrasse.
Zurich in two hours: Peterskirche, Fraumünster + Lake Zurich
Crisscrossing through the maze of cobbled streets, I arrived at the Peterskirche (church of St. Peter). One of Zurich's four big churches, St. Peter Church is easy to spot. It has Europe's largest clock face on its church tower.
From St. Peter my Zurich walking tour continued to the Münsterhof, the largest square in Zurich's old town. And from there it was only a few steps to the next of Zurich's large churches, the Fraumünster (the Woman's Minster or Lady's Minster).
Due to me visiting Zurich after work, I was unable to go into any of the churches. So, looking at them from the outside had to be enough for now. The downside of sightseeing after work, I guess.
But I do hope that I will get a chance to visit the Fraumünster one day. As five of its stained-glass windows are actually designed by Marc Chagall, and I would very much like to see those.
From the Fraumünster, I walked along the river to finally get down to Lake Zurich.
But before I arrived at the lake, the Frauenbad am Stadthausquai (woman's bathhouse) caught my eye. Moored on the river Limmat, the Frauenbad was built as a women's only lido at the end of the 19th century and it feels like stepping back in time directly into the elaborate Art Nouveau style. To this day, the Frauenbad is women only. Exploring Zurich in two hours didn't give me enough time for a splash as well (neither would an outdoor pool mix too well with the heavy thunderstorm we just had), but it is on my list of things to do in Zurich when I come back (and have more time).
From the Quaibrücke (Quay Bridge) I enjoyed the view over the Lake Zurich. Obviously, you can spend an entire day exploring Lake Zurich in its entirety. Zurich is located on the northern edge of Lake Zurich and the river Limmat is its outflow. With over 40km in length and almost 4km in width, I definitely did not have time to get around the entire lake. Nor would two hours in Zurich allow for any boat sightseeing tours on Lake Zurich. But if in Zurich for longer, I would check what tours are on offer.
Zurich in two hours: Opera House, Grossmünster + Rathaus
My Zurich walking tour is gradually nearing its end. Having crossed the Limmat I took a little detour along Lake Zurich to see the Opera House.
Then it was time for the third of Zurich's main churches, the Grossmünster.
Opposite the Fraumünster (separated by the river Limmat and the Münster Bridge), the twin towers of the 12th century church are probably the best-known landmark of Zurich. If you feel super sporty, you can go up the Karlsturm (the south tower) for an elevated view over Zurich. The tower is 67m high and has a viewing platform at 50m height. Be warned, there is no lift, so you will have to climb 187 steps. You can only go up the Karlsturm during the day, as it closes at 6pm (yep, already closed by the time I got there). And you will have to pay a 5CHF (4.30GBP) entrance fee. But once up on the viewing platform, I am sure you are rewarded with an amazing view over Zurich and the lake.
As I continued my Zurich in two hours walking tour along the river, next on my sightseeing list was the Rathaus, Zurich's town hall. The name might be a little confusing, as a Rathaus in German would normally be a town's city hall. However, Zurich has the Rathaus as the seat of the county government. And the Stadthaus, the actual city hall (located on the other side of the river Limmat, near the Fraumünster).
By now, my Zurich walking tour had definitely crossed the two-hour mark (but then again, I did have to unexpectedly find cover to wait out the thunderstorm half way through). And I was getting rather hungry. So good thing I was almost back at the start. Back in the Niederdorf, the last stop before heading for dinner was the Predigerkirche. The last of the four major churches in Zurich. And the only one I completely forgot to take any photos of. I guess my mind had already wandered off to find dinner and a drink.
In the end, my Zurich walking tour had around 8.5 kilometers. And actual walking time was 2 hours and 3 minutes. So pretty much bang on for a Zurich in two hours tour. In reality, it did take longer. As I not only walked, but also stopped to look at things and take photos. But when I originally planned the tour, it was well within the two hours, and it only had 4km. Tells you how much criss crossing and backing on myself I did (all thanks to leaving my mapped out itinerary back at the hotel). Did I mind? Not really. No better way exploring a town than by just going with the flow and enjoying it. Some of my best walks were without a map and off the beaten path.
What else to see in Zurich
Exploring Zurich in two hours (or even three or four) obviously means that I had to stick with the main attractions and keep it all brief. But Zurich has loads more to offer. Should I ever come back with more time to spare, there are loads more things I would like to see (well, and properly explore all the bits I did rush past during my Zurich walking tour):
The Swiss National Museum (near the main train station) and the Platzspitz park just behind it.
The old botanical garden with its 19th century palm hour and medieval herb garden.
The Pavillon Le Corbusier (a museum dedicated to the Swiss artist's work)
I hope you enjoyed my Zurich in two hours walking tour. And find it useful, should you plan your own trip to Zurich.
Have you been to Zurich before? What was your favourite?